The Database Server Company for the Internet Age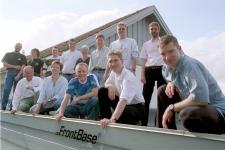 In 1993 our developers were contracted to produce the 911 Emergency System for the Denmark National Police (in Europe that system is the 112 Emergency System). In October 1996 that system was not only delivered on schedule with the full feature set, but also it was delivered at the contracted price. In one day, the Danish police literally went from using pencils to using the most advanced 911 Emergency System in the world, at that time. Since the first day that system was put on-line it has experienced no downtime, and it has been over four years now. That project was the impetus for the FrontBase™ database server.
The 911 Emergency System project was developed in NeXTStep/OpenStep. Our challenge was to resolve some unique 24/7/365 requirements. We quickly realized that these requirements mirrored the dynamics of the Internet. Part of our dilemma was the uncertainties regarding the size of the database, the number of transactions and a significant number of security issues. There were requirements such as a web-based database manager, live back up of the databases, unlimited scalability, cross platform replication and clustering, row level privileges, and encryption of both communication and the datastore. The commercial databases available to us at the time were all created in the 1970's and could not be effectively adapted to meet our specific needs. That is when we decided to create a new database, a database for the Internet Age.
The development of the FrontBase™ Database Server started in early 1996 with a team of very experienced developers. The design criteria we used reflected our knowledge of the existing databases' limitations, the possibilities that could be achieved with today's technology and our own needs and expectations. We chose ANSI C as the programming language in order to make our database cross platform. We used true Unicode so it would accept international character sets for localization in the global marketplace, and we employed the latest standard of SQL, SQL 92 on the 3rd level. The resulting RDBMS combines all of these standards and a long list of features that will be difficult to replicate in a competitive product.
Our development team has been together for many years and has a great sense of loyalty. It is a group motivated by the technology, takes great pride in their work and strives to maintain product superiority. The business concept that we have embraced, as an ISV, is to offer and support a product that is exceptional compared to our competitors. We want every one of our customers to be more than just satisfied. We want to be able to proudly point to each of our customers as a success story.
FrontBase, Inc.
26741 Portola Pkwy., Ste. 1E #414
Foothill Ranch, CA 92610
USA
Voice: +1 949 636 8026
Fax: +1 949 330 6371
info@frontbase.com